Best Phone Under 1000 AED in Dubai - Comparing products Features List​
Finding the best smartphone at an affordable price is really a difficult task because, with the change in technology and trends, people's demand is shifting towards expensive phones. Here you can find the best phone under 1000  AED, which has high quality and unlimited features.
Most of the brands focus on features and the quality of the phone. We have made it more accessible through this article and mentioned the top 7 phones available under 1000 AED with their features and some specifications. You can find the advantages and disadvantages to help you make an informed decision.
With every passing day, smartphones are getting smarter, and people don't need much money to buy a phone of their choice. You can choose several options if your budget is under 1000  AED. Most smartphones are budget-friendly, with several key features incorporated into them. Prices may fluctuate with the economy and changes in budget. However, here's the perfect guide for choosing the best phone under 1000 AED. This article mentioned honest reviews of the best phones under 1000  AED and provided valuable choices. If you are interested, we recommend the best smartphone through this article.
more about phones list, products features, options, buy store and price aed.
| Phone | Price (AED) | Storage | Battery | RAM | Camera | Other features |
| --- | --- | --- | --- | --- | --- | --- |
| OnePlus Nord CE 3 Lite 5G Chromatic Gray 8GB 256GB Storage | 928 AED | 256GB | 5000mAh | 8GB | Triple rear camera (108MP + 2MP + 2MP), 16MP front camera | 5G, 120Hz IPS LCD display, MediaTek Dimensity 900 5G processor |
| Samsung Galaxy A34 Dual SIM Mobile Phone Android | 862 AED | 256GB | 5000mAh | 8GB | Quad rear camera (48MP + 8MP + 5MP + 2MP), 13MP front camera | 5G, Super AMOLED display, Exynos 1280 processor |
| Google Pixel 4 XL 64GB OH, SO Orange | 999 AED | 64GB | 3700mAh | 6GB | Dual rear camera (12.2MP + 16MP), 8MP front camera | 5G, 90Hz OLED display, Qualcomm Snapdragon 855 processor |
| OPPO A78 5G Dual SIM 6.56 inches Smartphone | 784 AED | 128GB | 5000mAh | 8GB | Dual rear camera (50MP + 2MP), 8MP front camera | 5G, 90Hz IPS LCD display, MediaTek Dimensity 700 processor |
| POCO X5 5G (Black 6GB RAM, 128 Storage) | 699 AED | 128GB | 5000mAh | 6GB | Triple rear camera (48MP + 8MP + 2MP), 13MP front camera | 5G, 120Hz IPS LCD display, Qualcomm Snapdragon 695 5G processor |
| Samsung Galaxy S9+ Dual SIM | 882 AED | 128GB | 3500mAh | 6GB | Dual rear camera (12MP + 12MP), 8MP front camera | 5G, Super AMOLED display, Qualcomm Snapdragon 845 processor |
| OnePlus Nord CE 3 Lite 5G Pastel Lime 8GB 256GB Storage | 899 AED | 256GB | 5000mAh | 8GB | Triple rear camera (108MP + 2MP + 2MP), 16MP front camera | 5G, 120Hz IPS LCD display, MediaTek Dimensity 900 5G processor |
OnePlus Nord CE 3 Lite 5G Chromatic Gray 8GB 256GB Storage
Battery:  5,000mAh and 67W Wired Fast Charging Support.
Display: 6.72-inches 120Hz FHD+ LCD Display (680nits Brightness)
 OS: Android 13 – Oxygen (2 Years of OS and 3 Years of Security Updates).
Add a header to begin generating the table of contents
OnePlus Nord CE 3 belongs to sub-brand 'the CE Line', and it's one of the best mobiles that has been launched yet. The main feature is that it's bigger, fractionally taller, and broader than the OnePlus Nord CE 2 Lite 5G. The design is quite attractive with flat edges and looks like an iPhone 12. A central hole punch notch replaces the left corner positioning of the previous model.
The chromatic grey color of this phone is a unique and sober color to buy. It's sharp enough at 1080 x 2400 or Full HD+ and can also hit a 120Hz refresh rate. Unlike most other affordable Android phones, it also defaults to that peak refresh rate, which is nice to see.
It's one of the issues that people face is the type of panel that Oneplus has used. Despite this, the performance of this phone is excellent, and it provides the same snapdragon 695 chip. If we talk about its camera, the reasonably sizeable 1/1.67-inch sensor size and large f/1.75 aperture. With this, the battery is 50000mAh, which is ample. When people used it for 3 hours of screen-on time, the remaining battery was 75% when the phone was checked.
It contains the games management app; the second screen gives you a Netflix and OnePlus tools folder. There are other apps already installed on the phone. It has a fantastic camera, solid real-world performance, and a brighter display. Alongside, its battery life is super unique, and fast charging is it's another good feature. So if your budget is under 1000 AED and you are looking for the best phone, then it's one of the best choices to buy, or you can even gift this phone to your wife.
Weight: 234g | Thickness: 8.9mm | Screen: 6.8" 1440 x 3088 pixels,, AMOLED, 120Hz | Processor: Octa-core Snapdragon 8 Gen 2 | RAM: 12GB | Storage: up to 1TB | Cellular: 5G, Dual SIM, eSIM | Rear camera: 200MP Quad Camera | Front camera: 12MP | Battery: 5000mAh, 45W Wired charging
Samsung Galaxy A34 Dual SIM Mobile Phone Android
          Battery: Li-Po 5000 mAh, 25W wired
          Display: Super AMOLED, 120Hz, 19.5:9 ratio, ~390 PPI density
          OS: Android 13, One UI 5.1
The Galaxy A34 5G from Samsung is the newest addition to the Galaxy A series which has a history, offering a similar design to the Galaxy S23 and improving upon its predecessor in certain aspects. The display size has been increased to 6.6 inches and now exceeds 1000 cd/m². Positioned as a mid-range model, the Samsung Galaxy A34 5G falls between its two sibling models regarding features and performance in the new launch of 2023.
Samsung has implemented numerous noticeable changes, particularly in the display size of the Galaxy A34 5G. Previously measuring 6.4 inches, it now boasts a larger 6.6-inch display. The enhancements extend beyond the scope, as the refresh rate has been upgraded from 90 Hz to 120 Hz. Moreover, Samsung has substantially improved the brightness of the Super AMOLED panel.
Galaxy A34 specs:
The Galaxy A34 5G delivers excellent voice quality, and its effective noise cancellation ensures clear speech even in noisy surroundings. This is also true when using the hands-free mode, although voices might sound slightly muted. The camera arrangement of the Galaxy A34 5G is nearly identical to that of the Galaxy A33 5G.
gaming phone
The Galaxy A34 5G is a suitable option for gaming, although it may not always support full graphical details. However, it performs well with demanding games like PUBG Mobile, running smoothly on HD/High settings at approximately 40 FPS. Like other Galaxy A smartphones, the Samsung Galaxy A34 5G provides excellent value for its affordable price. It adopts a design inspired by the Galaxy S23 series, giving it a more premium appearance than its predecessor. Apart from its appealing aesthetics, the smartphone offers various features to enhance its overall appeal.
Galaxy A34 smartphone features:
One of its key features is the super AMOLED screen, which significantly increases brightness. In daily use, one can observe the enhancement from 90 to 120 Hz, resulting in smoother performance. According to Samsung, the smartphone should also support Android 17. The Galaxy A34 5G is also renowned for its capable camera, producing excellent photos during daylight hours.
Considering its retail price, Galaxy A34 has achieved the best remarks in all areas. There are a few alternatives for Galaxy A34, like Motorola Moto G72 and the Nothing Phone (1), which are the same in size and have 120Hz OLED.
In short, this phone is considered one of the best deals.
Google Pixel 4 XL 64GB OH, SO Orange
Battery: 3,700-mAh battery
Display: QHD display and a pixel density of 537 ppi
 OS: Android 7.1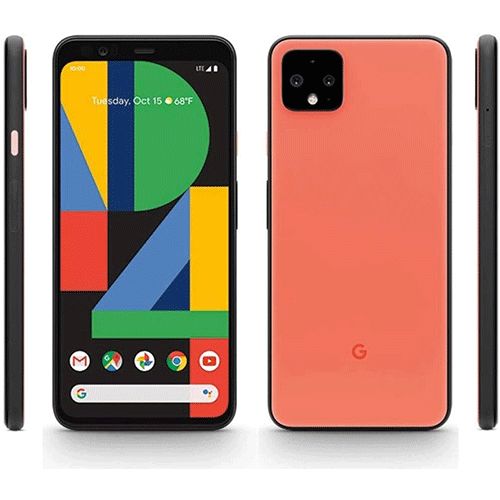 It's one of the most affordable and styling phones with a bigger screen, body, and battery.
You can select from three creatively named flat colors: Just Black, Clearly White, and Oh So Orange. Among these, the orange model is considered the least thrilling of the three color options and is a suitable choice for those who intend to use a case or skin on their phone right from the start.
The most notable feature of the screen, referred to as Smooth Display in Pixel terminology, is its 90Hz refresh rate. This results in incredibly smooth on-screen motion and enhances the overall speed of the Pixel 4 XL, giving the impression that the hardware effortlessly keeps up with tasks. The impact of this feature is particularly noticeable when navigating through the main user interface and the app drawer, but it's present throughout the device. The refresh rate is dynamic by default, intelligently shifting to 60Hz when power conservation is prioritised. Undoubtedly, the camera is one of the Pixel series' most valuable strengths.
Despite its strong performance, the Galaxy A34 5G faces initial setbacks compared to its competitors due to Google's choice of using the older Snapdragon 855 processor, which may become outdated faster. While the 90Hz display is impressive, it needs to be brighter than its rivals, potentially causing inconvenience for specific users.
Most people recommend the Pixel 4 XL in the market as it fulfils all their promises and stands out as the best for the users.
OPPO A78 5G Dual SIM 6.56 inches Smartphone
Battery: Li-Po 5000 mAh, 33W wired, PD
Display: IPS LCD, 90Hz, 480-600 nits brightness, 20:9 ratio, ~269 PPI density
OS: Android 12, ColorOS 13
The OPPO A78 stands out as one of the best mobile phones under 1000 AED in the affordable segment, offering a user-friendly experience. It boasts a well-built design, capable performance to handle daily tasks, and good battery life.
Featuring a dual-speaker setup and a USB Type-C port at the bottom, the phone's fingerprint sensor is conveniently located on the right side, functioning as the power button. The dual-camera setup on the blue matte-finish exterior is housed within two circular rings. While the OPPO A78 is lightweight and sturdy, it lacks standout features that inspire awe.
The phone sports a 6.5-inch HD+ LCD with a 90Hz refresh rate. However, the screen is surrounded by noticeable bezels, especially at the bottom, and utilizes a dated waterdrop notch to house the selfie shooter. While affordable phones have significantly improved their display quality, seeing a lower-resolution screen on the A78 is disappointing.
Regarding photography, the OPPO A78 offers a 50MP primary and 2MP depth shooter. While not the most versatile camera setup, it delivers reasonably detailed photos in ample daylight with quick autofocus. There is a decent level of dynamic range and well-metered exposure.
The OPPO A78 is suitable for those on a tight budget, as it provides solid build quality, decent performance, and long-lasting battery life. These features meet the expectations and make the OPPO A78 an appealing option for purchase. It's lightweight, so easy to carry in hands if you have big hands and can be held in a single hand. Most users use it by keeping it inside the cover, so what matters the most is its display and performance, which users want to be excellent and up to the mark. So, if you are satisfied with all their features and come under your budget, go for it.
POCO X5 5G (Black 6GB RAM, 128 Storage)
Battery: Li-Po 5000 mAh, 67W wired, 5W reverse wired
Display: AMOLED, 1B colors, 120Hz, Dolby Vision, HDR10+, 500-900, nits  brightness, 20:9 ratio, ~395 PPI density
OS: Android 12, MIUI 14 for POCO
The Poco X5 is a well-constructed smartphone with a plastic body and Gorilla Glass 3 on the front. It is available in green or black colour options, with a black-framed camera area that covers the entire device width, although the camera occupies only the left half. The right side features prominent Poco branding.
According to the press release, the Poco X5 5G camera is designed to meet the needs of adventurous tech enthusiasts from Gen Z, capturing great moments. One advantage of the Poco X5 is connecting wired headphones and expanding storage with a memory card. Overall, it offers a satisfactory mid-range experience, delivering what you expect from a device in this price range in 2023. Users have given it a 4-star rating.
It is a practical choice if you're considering pre-ordering the Poco X5. It offers a well-rounded package at a competitive price, providing good performance, 5G connectivity, a long-lasting battery, and an impressive display. The device even supports gaming; if you are outdoors often, it can capture excellent photos in daylight.
The Poco X5 features a subtle and stylish design, departing from Poco's previous approach of prominently displaying their logo on the entire back of the phone. With a slim profile of 7.98mm and a weight of just 189g, it offers a lightweight and comfortable feel, making it easy to hold without feeling burdensome.
The Poco X5 proves to be an outstanding choice in the offer of a mid-range smartphones price. The device's 120Hz display enhances the viewing experience for videos and social media, while the generous 5000mAh battery ensures effortless usage for up to two days.
Similar to phones in this price range, certain compromises are made, and the Poco X5 is no exception. Purchase it if you love all its premium features.
Samsung Galaxy S9+ Dual SIM
Battery: Non-removable Li-Ion 3500 mAh battery (13.48 Wh)
Display: Super AMOLED capacitive touchscreen, 16M colours
OS:Android 8.0 (Oreo), upgradable to Android 10.0, One UI 2.0
Regarding Android phones, the Samsung Galaxy S9 Plus reigns as the largest and most impressive option, boasting a 6.2-inch curved screen and a powerful dual-lens camera that excels in low-light conditions. While it shares a similar design to its predecessor, the S8 Plus, it does address some previous issues by repositioning the fingerprint sensor to the centre on the back and introducing stereo speakers.
However, the new AR Emoji mode may not meet the hype, and the higher price tag may be difficult to justify. The Galaxy S9 Plus caters to those seeking a phone with a giant screen and the best camera capabilities.
Although the Samsung Galaxy S9 Plus is a few years old, it remains a competitive choice due to its affordability compared to newer Samsung models while still holding its ground against the latest Galaxy S20 devices.
While attempting to match Apple's capabilities at a larger screen size (before the arrival of the iPhone XS Max and iPhone 11 Pro Max) and retaining a 3.5mm headphone jack, the S9 Plus outperforms the Google Pixel 2 XL in low-light photography in some scenarios, but not all.
If you want a phone with a big Samsung colourful screen and don't want to spend a significant amount of money or require a stylus, the S9 Plus is still a reliable option. Its default Full HD 1080p resolution presents an outstanding visual experience, with its curved edges, vibrant colours, and high contrast ratio adding to its appeal.
Samsung has created a screen that occupies 90% of the S9 Plus's front, minimising bezels and altogether avoiding a notch. Holding the phone feels like grasping a large, beautiful beam of light. However, the curved screen and the phone's size may occasionally lead to accidental touches, especially with a firm grip.
That's why it's one of the best choices, and people recommend it to their friends and colleagues without giving any other option. So buy Samsung S9 before it's too late.
OnePlus Nord CE 3 Lite 5G Pastel Lime 8GB 256GB Storage
Battery: Li-Po 5000 mAh, 67W wired
Display: IPS LCD, 120Hz, 550-680 nits brightness, 20:9 ratio, ~391 PPI       density
OS:Android 13, OxygenOS 13.1
The OnePlus Nord CE 3 Lite is considered the best Android smartphone because it's a budget-friendly 5G phone in 2023 that offers premium features. It boasts a 120Hz display, a 64MP camera, and a large battery with 33W wired fast charging and 256 internal storage. The recently released successor, the OnePlus Nord CE 3 Lite, improves upon its predecessor with an enhanced camera system, more rapid charging, and a fresh design at a slightly higher cost. It's one of the most capable phones, and it can be called a mid-range phone because the price is relatively low, and everyone can buy it easily.
Users have been satisfied with the OnePlus Nord CE 3 Lite for years, appreciating its standout qualities and considering it the best phone in its price range. The phone's design is one of the notable updates, featuring an updated camera module design and two new colors. Instead of a rectangular camera island, the Nord CE 3 Lite now sports two significant circular elements housing its triple-camera setup and an LED flash.
With its flat edges, the phone offers a comfortable grip and includes a power button on the right side that doubles as a fingerprint scanner. The left side features a volume rocker and SIM tray, while the bottom houses a USB-C port and a 3.5mm headphone jack. The OnePlus Nord CE 3 Lite boasts a 6.72-inch FHD+ LCD panel with a 120Hz refresh rate, a 240Hz touch sampling rate, 8-bit color depth, and a peak brightness of 680 nits. While the display is bright enough for decent visibility under direct sunlight, it may not be the most vibrant panel in its price range.
In conclusion, the OnePlus Nord CE 3 Lite stands out as one of the best phones with a wide range of features, and its price is attractive. It offers a significantly better user experience compared to the other mentioned phones.