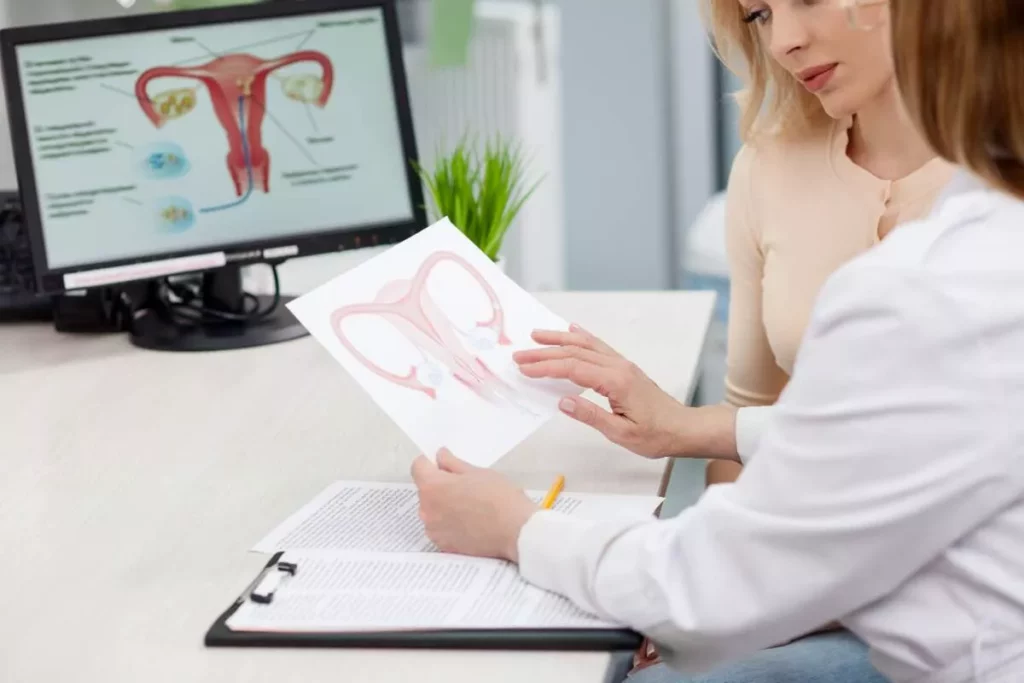 Whether you seek routine pregnancy care or timely preventive screening, finding respectable gynecologists who understand your needs is crucial.
The United Arab Emirates remains fortunate to host scores of qualified doctors who deliver the clinical expertise required for any illness or treatment. Dubai, in particular, is home to a wide variety of primary and tertiary care hospitals, with each doctor boasting extensive experience and degrees in medical sciences.
However, locating the right gynecologist may prove difficult because of the rising number of everyday clinics and health centers that continue emerging in the city.
Any woman who wishes to maintain her private health wants an obstetrician and gynecologist who can treat her with dignity, professionalism, and the right expertise.
Fortunately for you, we've curated and compiled this comprehensive list of the best gynecologists who serve in Dubai but are renowned across the United Arab Emirates.
Top 10 Best Gynecologists in Dubai
1.Dr. Munira Furniturewala: Bourn Hall Fertility Clinic
Clinic Name

Bourn Hall Fertility Clinic

Address

Al Hudhaiba Awards Buildings Block C, 7th Floor Jumeirah, Dubai Location Map

Working Hours

Monday-Wednesday- Friday: 8:00am to 5:00pm Tuesday-Thursday: 8:00am to 6:00pm Saturday: 9AM to 2PM Sunday: Closed

Phone

047 055 055

Website

bournhall-clinic.ae
The Bourn Hall Fertility Clinic stands out as a premier fertility hospital that enjoys special expertise in In Vitro Fertilization (IVF). The hospital began as an initiative by Nobel Laureate Prof. Robert Edwards and Dr. Patrick Steptoe.
Today, the hospital leads the fertility treatment industry as a pioneering institute with over four decades of quality service delivered to every patient it welcomes.
About Dr. Munira Furniturewala
Dr. Furniturewala commands much respect in the medical community as a specialist in obstetrics and gynecology.
As a specialist in obstetrics, she has over two decades of experience. And over the years, she has developed a special interest in treating infertility and excelling at reproductive endocrinology.
She possesses a Bachelor's in Medicine & Surgery and a Post-Graduate's degree in Obstetrics and Gynecology from Mumbai, India.
Her work has ranged from acting as resident specialists to managing pregnancy cases that involve complications and unique challenges.
Prior to her joining Bourn Hall, Dr. Munira also served as an expert consultant at a reputed government hospital in Dubai. Specialist obstetrics, family planning assistance, women's health, assisting with high risk pregnancies, treatment of sexually transmitted diseases and polycystic ovarian syndrome. Her patients receive the utmost care in areas like ultrasound guided operations, laparoscopic surgery,  assisted reproductive treatment, pelvic organ prolapse, early pregnancy, ectopic pregnancy, normal deliveries and obstetric & gynaecological ultrasounds.
Her areas of special expertise and experience include:
Treatments involving colposcopy
Procedures of hysteroscopy
Obstetric ultrasounds
Gynaecological endoscopy.
2.Dr. Elsa Fernandes: New Concept Clinic
Clinic Name

New Concept Clinic

Address

Office No.202, Building No.72, 2nd Floor, Dubai - Dubai Healthcare City - Dubai Location Map

Working Hours

Monday to Friday : 9am to 5pm Saturday – Sunday :Closed

Phone

045 547 273

Website

drelsa.net
New Concept Clinic is a prime hospital and eminent medical center that seeks to provide high-quality ob gyn services to patients in Dubai and middle east.
The center features an incredibly qualified team of specialist obstetrics, best gynecologist & laparoscopic surgeons with amazing doctors of healthcare professionals, clinical expertise, senior consultant and  an excellent approach to caregiving, with an impressive reputation for delivering unmatched support for obstetrics and gynecology.
They enjoy strong ties with other medical centers in the United Arab Emirates, like the Mediclinic City Hospital.
Characterized by personalized care and superior medical facilities, New Concept Clinic remains a contender for the best gynecologist in Dubai. Patients seeking a prime medical center in Dubai Healthcare City should pay her a visit.
Dr. Fernandes comes with the highest levels of obstetrics and gynecological training from the United Kingdom. She also served as the Senior House Officer at Southend General and St. Bartholomew's in London.
On her move to Dubai, she joined the Mediclinic City Hospital as the primary Consultant Obstetrician and Gynaecologist for women's health. She also possesses a Fellowship from the Royal Free Hospital, London, and the Royal College of Obstetricians and Gynaecologists, UK.
Dr. Elsa de Menezes Fernandes, as she's officially known, has remained in Dubai, sharing her expertise in all manner of gynecological healthcare, laparoscopic surgeons & bariatric surgery, specialist obstetrics, obstetrician gynecologist for children & adult and related obgyn procedures.
Although she enjoys proficiency in most areas of gynaecology, her specialty stands out in some specific departments.
Vaginal and abdominal hysterectomies.
Procedures requiring myomectomies.
Laparoscopic surgery and related complications
Maternal Fetal Medicine
3.Dr. Fella Sadi: The French Clinic
Clinic Name

The French Clinic

Address

District 1. Building 64: Al Razi – Block C/D, 3rd Floor, Clinic 3016 - Dubai Healthcare City - Umm Hurair 2 - Dubai Healthcare City - Dubai Location Map

Working Hours

Saturday to Thursday: 9am to 6pm
Friday - Sunday : Closed

Phone

044 298 450

Website

frenchclinic.com
The French Clinic is celebrated for serving as a prime medical center & private hospitals that provides reliable service and excellent management in cases of obstetrics and gynecology.
The hospital carries cutting-edge medical equipment, qualified personnel, and top expertise in all manner of ob gyn surgery, specialist obstetrics, full women's healthcare, minimal access surgery, pelvic pain, polycystic ovarian syndrome examinations,  high risk obstetrics assessment, and patient care.
All its staff and doctors come trained from top French hospitals with experiences equivalent to any top American board. Their gynecologists provide customized care for women of all ages.
So, you can seek appropriate care here regardless of whether the treatment is for menopause or adolescent gynecology in Dubai.
Dr. Fella Sadi and her team deliver top-notch services for delicate medical procedures as well as aesthetic surgery. She comes served in the Obstetrics and Gynecology department of leading hospitals in Paris. And she's a practicing member of the French Board of Colposcopy.
She continues to be recognized among the top surgeons and physicians in Dubai and middle east, thanks to her rapport with fellow gynecologists, obstetrician gynecologist,  maternal fetal medicine, amazing doctor, satisfied patients, and clinical expertise.
Dr. Sadi's core scope of expertise includes a variety of areas.
Careful management of high risk pregnancies.
Dedication and expertise in antenatal care.
Detection and diagnosis of female-specific cancers
Menstrual problems and ovarian disorders
Management of contraceptive implants
Procedures that involve laparoscopic hysterectomy.
Clinic Name

Dr. Ripal Madnani

Address

Building No 62, Dubai Healthcare City, Dubai Location Map

Working Hours

Monday – Saturday : 9.00am to 8.00pm
Sunday : Closed

Phone

052 353 0149

Website

drripalgynec.ae
Dr. Ripal Madnani offers extensive ob gyn services in Dubai and has a track record of providing excellent surgical management, dealing well with any high risk pregnancy, and nurturing a passion for patient health and wellbeing as well as world laparoscopy hospital.
She offers more than a decade's worth of experience as an accomplished specialist gynecologist, healthcare professionals, clinical expertise and high risk obstetrics in Dubai and middle east. And her team has covered over 7000 surgery cases to date.
The team carries cutting-edge medical equipment, qualified personnel, and top expertise in all manner of  specialist obstetrics, full women's healthcare, minimal access surgery, pelvic pain, polycystic ovarian syndrome examinations, sexually transmitted diseases, high risk obstetrics assessment, and patient care of women's healthcare.
Her qualifications include an MD in Obstetrics and Gynecology, Fellowship in Assisted Reproductive Techniques, and an additional Fellowship in Minimally Invasive Surgery.
Dr. Madnani's areas of competence cover a wide range of ob gyn and medical treatments.
Menstrual dysfunctions and hormonal imbalances that cause PCOS, PCOD, etc. for best women's healthcare.
Proficiency with any form of pelvic floor surgery
Personalized counseling for couples looking to conceive
Treatment of conditions arising from menopause in women and women's health.
Consultant obstetrician for early pregnancy and journey as a mother.
Awareness, education, diagnosis, and prevention of cancer in women with best women's healthcare.
5.Dr. Kalayanova and Dr. Burmagina: Femiclinic
Clinic Name

Femiclinic medical center

Address

Suite 203-204, Building 72, Dubai Healthcare city, Dubai Location Map

Working Hours

Monday to Friday : 8:30am to 6:00pm Saturday – Sunday :Closed

Phone

044 542 640

Website

femiclinic.com
Femiclinic is one of the few reputed hospitals in Dubai that presents a detailed Patient Charter of Rights. This document contains over a dozen core statements that patients can leverage to draw the most benefit out of their specialist obstetrics, gynecologists, and surgeons at Femiclinic.
The hospital, Dubai, is known for upholding confidentiality and personalization of care with every patient.
As a specialist center for obgyn needs, you can visit this hospital in Dubai Healthcare City for any requirement.
Success stories from Femiclinic range from normal pregnancy cases and high risk pregnancies, to reproductive medicine and minimal access surgery.
About Dr. Ekatarina Kaloyanova
Dr. Kaloyanova serves her patients from a number of hospitals, including Emirates Hospital, Suleiman Al Habib Hospital, Clemenceau Hospital, and Mediclinic City Hospital.
She has the reputation of ensuring that every mother who visits her leaves comforted and confident in her extensive experience and fetal medicine.
Whether it's meeting challenges in the labour room, managing high risk pregnancies, or offering general OB GYN services, this specialist does it all.
Her ability to deal with mothers and kids of all ages makes her sessions seem like an active children hospital. This expertise also encourages high demand for her services as a senior consultant.
Dr. Kaloyanova remains respected and admired for her excellence among patients and fellow gynecologists alike. Regardless of where Femiclinic found Dr. Kaloyanova, we bet they don't plan to let her go now.
About Dr. Yuliya Burmagina
Dr. Burmagina's medical college history ranges from renowned medical universities in Ukraine, Paris, and Versailles-St. Quentin.
Although her expertise covers a wide range of gynecology and obstetrics, she exhibits exceptional proficiency in high risk pregnancies. As an expert obgyn, she truly delivers when it comes to dedicated care during complications of labour and delivery, issues of infertility, and other health issues related to pregnancy.
As the Consultant Obstetrician for Dubai Health Authority, she lends her expertise as a gynaecologist, management skills, and treatment experience to multiple hospitals, patients, women, and fellow doctors around the United Arab Emirates.
Her competence in administering maternal fetal medicine, and OBGYN surgery, and her adaptability to any gynaecology department make her invaluable to private hospitals and patients all over the region.
6.Dr. Amal Alias Fertility and Gynaecology Center
Clinic Name

Dr. Amal Alias Fertility & Gynaecology Center - IVF ICSI

Address

Ground floor, The One Tower, Dubai Internet City Metro Station (TECOM), Beside Mercure Hotel, Dubai Location Map

Working Hours

Saturday – Thrusday : 8.00am to 8.30pm
Friday : 12.00am to 8.00pm

Phone

042 401 101

Website

a-ivf.ae
Dr. Amal and her OBGYN team have cemented themselves as a class apart when it comes to specialist obstetrics and gynecology services in the United Arab Emirates.
Although their base is in Dubai, their functioning takes them well beyond the city.
With expertise that covers everything from laparoscopic surgery and high risk pregnancy to minimal access surgery and family planning assistance, it's the one-stop shop for obstetrics and gynaecology in Dubai.
The hospital also specializes in treating and managing severe infertility cases. They consider the health of the mother, early pregnancy risks, and responsible use of Artificial Reproduction Technology to help infertile couples all over the country.
The surgeons at Dr. Amal Alias Fertility Center come with experience and degrees from Royal College, the European Society, and the top university hospital in the region.
The combined experience of Dr. Amal's team makes them medical veterans when it comes to obstetrics and gynaecology in the Middle East.
With the growing number of patients raving about their care and service, this prime medical center will continue delivering quality OB GYN treatment and responsible management of gynaecology needs for years to come.
Dr. Gowri Ramanathan stands out as a multitalented obstetrician and gynaecologist of the highest caliber. She is a qualified doctor, a reputed expert in fetal medicine, a certified OBGYN, and incredibly experienced with matters of obstetrics.
In Abu Dhabi, she served as Director of Fetal Medicine at Corniche Hospital. Following this stint, she headed the Obstetrics, Gynecology, and Fetal Medicine Department at Danat Al Emarat Hospital, Abu Dhabi.
And till a few years ago, Dr. Gowri took up the helm at Kings Medical College Hospital as the Chief Medical Officer.
She has also lent her expertise as a professor and instructor at more than one university hospital.
Dr. Gowri earned membership at the Royal College of Obstetrics and Gynecology back in 1995. And in a matter of three years, the same Royal College granted her a Fellowship for her proficiency with OB GYN treatment.
Some of her OBGYN experiences and success stories include:
Screening tests and health inspection for women
PCOS tests and treatment for women of reproductive age.
Contraception recommendations and high risk pregnancy care,
Diagnosis and treatment of menstrual disorders
Fibroids and recommendations on surgery and treatment.
Pelvic ultrasounds and issues related to ovarian cysts.
OBGYN Surgery procedures like laparoscopic hysterectomy, uterovaginal prolapse, etc.
Clinic Name

Mediclinic Parkview Hospital (Dr. Amal Al Mullah)

Address

Mediclinic Parkview Hospital, Umm Suqeim Street, Al Barsha South, Dubai Location Map

Working Hours

Monday to Thrusday : 9:00am to 6:00pm Sunday - Saturday - Friday :Closed

Phone

055 111 0221

Website

bestgynecologistindubai.com
Considered as the top Consultant Obstetrician by many, Dr. Amal Al Mullah's specialist obstetrics is a go-to destination for patients with advanced illnesses in gynecology.
Dr. Mullah has over 20 years of obstetrics and gynecology experience under her belt. Over the past two decades, she has provided treatment to more than 10,000 patients.
These cases have ranged from general health issues and specialist obstetrics to high risk pregnancies and fertility issues.
Her qualifications took off with an impressive Master's Degree from Egypt. Subsequently, she went on to earn a Membership and Fellowship from Royal College in the UK and Ireland.
Dr. Mullah also has the distinction of being a Fellow at the American College of Obstetrics and Gynecology. These qualifications make her service seem like a full-fledged American hospital Dubai operating within the United Arab Emirates.
To be clear, Dr. Amal Al Mullah's specialist obstetrics clinic is not an American hospital. However, the range of her services gives the impression of being a top European Society Hospital operating in Dubai, United Arab Emirates.
Any gynaecologist within the region would be proud to have half the qualifications Dr. Mullah possesses. Here's a quick list of the illnesses, conditions, and treatments she handles.
Accurate and minimally invasive procedures like laparoscopic surgery (also called Laparoscopic Hysterectomy)
Endocrine therapy and treatment of Endometriosis.
Issues with infertility (stem cell treatment), miscarriages, and high risk pregnancies.
Specialist OBGYN procedures like IVF, ICSI, and IUI.
Cosmetic gynaecology procedures
Motherhood therapy and family planning advice.
Dr. Aman Al Mullah's wide expertise as a specialist gynaecologist makes her one of the best consultants in Obstetrics and Gynecology in Dubai, United Arab Emirates.
Clinic Name

Medcare Medical Centre(Dr. Charles Nagy)

Address

Medcare women and children hospital - Sheikh Zayed Rd - next to Al Manara municipality center - Al Safa - Al Safa 2 - Dubai Location Map

Working Hours

Saturday -Thrusday : 9.00am to 9.00pm
Friday - Sunday : 3:00 pm to 9:00 pm

Phone

800 633 2273

Website

drcharlesnagy.com
Gynaecologists in Dubai often exhibit an impressive record in qualifications and experience. But few doctors come close to Dr. Charles Nagy in terms of academics and service history as medical expert.
He completed MBBS in Ains Sham, Egypt. Dr. Nagy also carries a Membership at Royal Medical College, London. His certificate from General Medical Council, UK, and additional gynaecologist qualification from Cardiff University are simply icing on the cake.
His services include:
Laparoscopic Hysterectomy
Preventive and Corrective Hysteroscopy
Accurate Colposcopy
Endometriosis
Fibroids and related treatments
Procedures involving Myomectomy
PCOS and infertility treatments.
Dr. Charles is also a serving member of the American Association of Gynaecological Laparoscopists. Some patients confuse this qualification to mean that he runs an American hospital. However, that is not the case.
Additionally, Dr. Nagy also acts as the Head of Medcare Women Endometriosis Center at the Medcare Women and Children Hospital.
Don't be surprised to find his clinic swamped with patients when you visit. As a prime hospital delivering specialist Obstetrician and Gynaecologist services, people continue thronging to his reception desk.
Dr. Nagy is also known to uphold doctor and patient confidentiality to a high standard. So, it's no wonder why women looking for discreet gynaecologists and facing complicated pregnancies also prefer him.
Dr. Adnan Tahir has a wealth of experience in Aesthetic and cosmetic surgery and is a founding member of MPSI. Dr. Tahir trained in one of the best medical institutes in the UK and began his professional career in 2003.
His expertise in Rhinoplasty has made MPSI one of the best places for a nose job without bothering about complications and breathing issues.
10.Dr. Pourmirza and Dr. Nasser: Fetal Medicine
Clinic Name

Feto Maternal & GenetYX Center

Address

Dubai Healthcare City, 211-212 Building 39, POB 505010 - Dubai Location Map

Working Hours

Monday – Saturday : 8.00am to 6.00pm
Sunday : Closed

Phone

043 604 040

Website

fetalmedicine.ae
Fetal Medicine, Dubai, is a fairly recent company compared to some of the decades-old hospitals listed here. However, they've managed to accomplish impressive feats and rack up good numbers in their short run-up so far.
Established primarily as a prenatal care center and hospital, Dubai, they catered mostly to pregnancy cases and obstetrician services initially. However, their team's expertise in gynaecology pushed them towards more treatments as full-fledged gynaecologists.
Today, Fetal Medicine, Dubai, remains recognized as a top provider of OBGYN services with qualified gynaecologists, obstetrics specialists, and health professionals.
As a health specialist in obstetrics and gynaecology, Dr. Pourmirza has served as a senior consultant in various medical centers. He secured his MD and Ph.D. degrees from Farsharzt, Germany.
Although his nationality remains German, Dr. Pourmirza finds purpose in serving in Dubai as a gynaecologist and renowned obstetrician. His doctor-patient relationships remain a model for junior doctors who wish to build rapport with those visiting their hospital.
As a doctor and authority on gynecology, Dr. Pourmirza offers services like pelvic scans, tubal patency checks, pregnancy monitoring, and general obstetrics and gynaecology treatments.
Dr. Nassar is a Lebanese gynecologist whose academic background includes a University Hospital in Beirut and the University of Neckar, France. However, he chooses to share his knowledge of obstetrics and gynaecology in Dubai and nearby regions.
Dr. Nassar can serve as a Senior Consultant offering family planning advice. Alternatively, he can quickly switch to being a dedicated gynecologist caring for pregnancy-related issues.
His hospital experience remains as impressive as his doctor-patient rapport. Today, any hospital, Dubai, with a gynecology department would be happy to have him join their team of gynecologists.
Gynecology Basics To Remember
Obstetrics and Gynaecology represent a wing of medicine that most people are aware of, but few truly understand. To ensure that you choose the right doctor and hospital, Dubai, recognizing the purpose and role of gynecology is vital.
A burning question among people unfamiliar with gynaecologists is whether they qualify as medical professionals. So, are gynecologist doctors? They are considered specialist?
The short answer is a resounding yes!
Gynaecologists are those medical doctors who have dedicated knowledge of monitoring, diagnosing, and treating issues related to women's reproductive health.
The average doctor who completed MBBS needs to pursue an additional degree in gynecology in a recognized medical college before qualifying as a gynecologist. So, gynaecologists are specialists in every sense of the term.
They identify disorders or health issues related to the female reproductive organs and related bodily functions. Subsequently, they may prescribe appropriate medication, recommend surgery, or provide therapy for overcoming these issues.
Medical Scope of Gynecology
The next question naysayers may ask is, 'What gynaecologist do? What they treat?'
What Gynecologists May Treat
Gynecologists may treat a variety of disorders depending on the patient's reproductive health. For instance, pregnancies that encounter abnormalities often require medical intervention.
Here, gynaecologists may advise procedures or medication that will help the mother go through the pregnancy without harm or illness. The hospital may also recommend an obstetrician to ensure the baby's help in pregnancies that carry risk.
So, obstetrics and gynaecology always go hand in hand during pregnancies.
Gynaecologists undergoing training may choose specific areas to study when in medical college.
When to Consult Gynaecologists?
Now that we know what gynaecologists do and what they treat, the obvious question is, 'When to see gynaecologists? Why it's important?'
Women facing any type of reproductive disorder or discomfort should seek a gynecologist immediately.
Signs That You May Need To See a Gynecologist
Let's consider some common instances where you should consult gynaecologists in a reliable hospital, Dubai.
Any abnormal development or problem that appears with pregnancy.
Disorders related to menopause or irregular menstruation at any age.
Discomfort, pain, or unusual issues in the pelvic area
Any issues with your urinary tract or anal canal
Irregular issues or suspicious developments in the reproductive organs
Ulcers, lumps, or unexpected changes in the vulva and vagina
Any issues related to sexual health or sexual organs.
These common issues are not an exhaustive list of when to see gynaecologists. But they're among the frequent reasons why you may want to visit a hospital with a gynecology department.
Finding a gynecologist at your nearest hospital, Dubai, may not be difficult. That's because there's no lack of qualified gynaecologists within the city. However, discovering the right gynecologist who offers you expertise, professionalism, and confidentiality remains challenging.
This list of the city's leading and highly reputed gynecologists should help you narrow your search. The professionals mentioned here each have a trusted track record of providing reliable, trustworthy treatments that remain far better than ordinary gynecologists in neighborhood clinics.
Live life with renewed confidence in your body by consulting the best obstetric and gynaecology doctor in Dubai.
What does a gynecologist do?
A gynecologist provides a range of medical services related to the female reproductive system, including annual exams, Pap smears, STD testing, birth control management, menopause management, and treatment of conditions such as endometriosis, uterine fibroids, and ovarian cysts.
When should I see a gynecologist?
It is recommended that females see a gynecologist annually for a well-woman exam, starting at age 21 or when they become sexually active, whichever comes first. Additionally, if you are experiencing any abnormal symptoms related to your menstrual cycle or reproductive system, it is important to schedule an appointment with a gynecologist.
What should I expect during my first visit to a gynecologist in Dubai?
During your first visit, the gynecologist will likely ask you about your medical history and perform a physical exam, which may include a Pap smear and breast exam. They may also discuss birth control options and provide guidance on maintaining good reproductive health.
Is it normal to feel nervous or uncomfortable about visiting a gynecologist?
Yes, it is common to feel nervous or uncomfortable about visiting a gynecologist, especially if it is your first time. It may help to bring a friend or family member with you for support, and to communicate any concerns or questions you have with the gynecologist. Remember, their job is to help you maintain good reproductive health and address any concerns you may have.