Good oral health and habits remain a crucial part of overall vigor when it comes to your child. However, handling your child's oral health is not an easy or simple task. For many parents, simply going to the dentist requires a lot of persuasion and convincing. The best pediatric dentist in Dubai is not just a specialist of pediatric dentistry but one who also carries a friendly demeanor, welcoming attitude, and ability to get along with children.
We scoured the endless list of each pediatric dental clinic in Dubai to find which dentist fits the bill for providing the best dental care, professional service, expertise with any age, and treatments that the child finds friendly and fun. The good news is that several pediatric dentists in the area stood out for their services. Also, we didn't want to leave out a pediatric dentist of merit simply to keep the list short.
So, we present to you all of Dubai's top dentists and experts in pediatric dental care who can handle children's dental care with the right combination of play and professionalism.
Top 10 Best pediatric dentistry In Dubai
Clinic Name

MyPediaClinic

Address

Building 64 - Al Razi Building No 64 Block B First Floor Unit 1011 Dubai Health Care City - Block B - 1101 - Umm Hurair 2 - Dubai - United Arab Emirates Location Map

Working Hours

Sat – Wed: 9AM – 7PM Thur: 9AM – 2PM Fri :Closed

Phone

055 931 1752

Website

mypediaclinic.com
My Pedia Clinic is a medical center designed for children and aimed at creating a warm, welcoming, and compassionate environment for all its young patients. Located in Dubai Health Care City, you'll find this dental clinic on the first floor of the Al Razi Building, Block B. The clinic is open on most days of the week, except Fridays, and they work for long hours during the weekends.
About The Pediatric Dentist
The primary pediatric dentist at My Pedia Clinic is Dr. Shaima Buhamer. She has degrees in general dentistry, pediatric dentistry, and pediatric dental surgery from some of the most reputed universities in the UK and UAE. Dr. Shaima is also trained in anxiety management and possesses experience dealing with special needs children too. Other pediatric specialists at the clinic include Dr. Medhat Abu-Shaaban, Dr. Yasmin Kottait, and Dr. Mustafa Abdulla.
The clinic offers a wide range of pediatric dental expertise with a special focus on making the experience painless, fun, and comfortable for your child. This combined atmosphere ensures that your toddler undergoes the procedure or consultation with minimum hassle and zero stress. Some of their services include:
Full dental consultation and check-up for children as young as one.
Age-specific dental treatment program for teenagers
Customized dental treatment and friendly experience for children with special conditions like Autism.
Lessons on diet and oral hygiene to children of all ages
Root canal procedures for babies growing primary teeth.
Preventive measures for tooth decay and preservation of gums
2.Dentistree Dental Clinic
Clinic Name

Dentistree Dental Clinic

Address

Jumeirah Shop 3, Wasl Port Views 8, Next to Hyatt Place,AI Mina Road, Jumeirah 1, Dubai,United Arab Emirates Location Map Mirdif 47th Street, Next to Mirdif Mall, Dubai,United Arab Emirates Location Map

Working Hours

Jumeirah Mon – Sat : 10.00 AM– 8.00PM
Sunday : Closed Mirdif Sat – Thur: 9AM – 8PM Fri :Closed

Phone

Jumeirah 042 529 935 Mirdif 043 852 237

Website

dentistree.ae
Dentistree is a premier dental service provider in Dubai with clinics in Al Mina Road, Jumeirah, and Mirdif Mall, Dubai. They operate on all days except Sundays and Fridays, depending on which outlet you visit. The clinic seeks to provide high-standard dental care to children and adolescents of all ages. So, if you're looking for reliable pediatric dental care for your child's teeth and gums, this one is worth checking out.
About The Pediatric Dentist
Dr. Tarun Walia is the specialist pediatric dentist at Dentistree clinic. A graduate of IMER, Chandigarh, Dr. Walia also holds a Membership in Pediatric Dentistry at the Royal College of London and a Fellowship at Royal College, Glasgow. With multiple publications, years of experience, and a special ability for children and pediatric care, Dr. Walia remains a reputed pediatric dentist in Dubai.
Dr. Walia and the team at Dentistree make your child and his visit to the dentist a fun and memorable experience. With long years of experience dealing with children, he ensures that each of your child's feels safe, pediatric dentistry, comfortable, and welcomed when you visit the clinic. The team's pediatric dental services include:
Fluoride recommendations for fighting plaque in your child's teeth.
Specialized tooth care as soon as the first birthday (up to six months)
Educate and motivate children to avoid indulging in excessive candies.
Dental sealants to prevent tooth decay.
Encouraging good oral habits and hygiene for a positive lifestyle.
Teaching children how to overcome habits like thumb sucking
3.Appolonia Dentistry For Children
Clinic Name

Appolonia Dentistry For Children

Address

Villa No - 1055 Al Wasl Rd - Al Manara - Dubai - United Arab Emirates Location Map

Working Hours

Everyday : 9.00 AM– 10.00PM

Phone

800 7600

Website

appolonia.ae
Appolonia World offers one of the most comprehensive sets of services for your child's oral health in Dubai. The clinic accommodates over 70,000 appointments every year, making it a highly sought-after center for treating cavities, pediatric dentistry, tooth decay, oral hygiene, and even baby tooth treatment. You'll find the Appolonica World-Dubai at Al Wasl Road, and they have three other clinics in Abu Dhabi.
About The Pediatric Dentists
Dubai's Appolonia World has a combined professional strength of 23 doctors and dentists, 16 of whom are pediatric dentists in your child's or pediatric dental care. The team is led by Prof. Waleed Al Saadi, a certified member of the American Board of Pediatric Dentistry since 1996. Assisting him across other centers are pediatric dentists of outstanding merit, like Dr. Hala Kitazo and Dr. Salma Hamie, both of whom come with years of experience and offer special attention to your child.
Appolonia World will provide pediatric dental care for your child by the first birthday or as the first tooth emerges (whichever is sooner). Their full suite of services includes your child's dental intervention, pediatric dentistry, preventive dental care, and behavioral tips that aim to create a healthy oral lifestyle for your child.
A full examination of the child's cheeks, tongue, teeth, lips, and gums (starting from the first dental visit).
X-rays and relevant scans depend on the child's cooperation.
Teach the child the correct way to brush, the amount of toothpaste to use, how frequently to brush, etc.
Identify the child's occlusion (overbite, underbite, etc.) and recommend corrective plans.
Clinic settings built to remain friendly to children (Astronaut theme, Frozen theme, etc.)
Supplementary orthodontic recommendations wherever needed.
Clinic Name

Pearl Dental Clinic

Address

Business Bay Shop# 3, Ground floor Citadel Tower Near JW Marriott, Burj Khalifa Area - Dubai - United Arab Emirates Location Map Jumeirah Lamar Building - Shop - Shop 26 - 26 Al Wasl Rd - Jumeirah - Jumeirah 3 - Dubai - United Arab Emirates Location Map

Working Hours

Mon - Fri : 9AM - 9PM Sat - Sun : 9AM - 8PM

Phone

Business Bay 044 270 710 Jumeirah 054 475 2767

Website

pearldentalclinics.com
Boasting two locations at Business Bay and Jumeirah, Pearl Dental Clinic is a go-to center for parents expecting the best pediatric dentist in Dubai. The center got recognized as one of the 100 best dental clinics globally according to the Global Clinic Rating. With 11 dentists and 12 supporting staff, the team at Pearl Clinic strives to create a friendly, positive, and play-filled experience when your children visit the dentist clinic in dubai.
About The Pediatric Dentist
The primary pediatric dentist at Pearl is Dr. Shirley Newman, a professional with long years of history dealing with children and special needs patients and a wide range of abilities as a pediatric dentist in Dubai. She has an MDS in Pedodontics and Preventive Dentistry, and her great experience with young children makes her a top specialist pediatric dentist in the area. Dr. Salahudeen, another senior dentist at Pearl, comes with an MSC in Pediatric Dentistry from the UK, over 20 years of experience, and is a certified Invisalign Platinum Provider.
Pearl Clinic follows the American Academy of Pediatric Dentistry's maxim that your baby must visit the dentist as soon as the baby's first tooth erupts. As a result, the center provides great pediatric services for babies as young as six months with dental clinic in dubai.
Recommendation of dental sealants like pit or fissure.
Recommendation of fluoride for young patients.
Fast detection of conditions like caries and sedation dentistry.
Full mouth rehabilitation using cutting-edge techniques and general anesthesia.
Mouth appliance to replace thumb sucking and excessive use of pacifiers.
Preventive care for tooth decay and cavities.
Teaching important oral habits and good oral hygiene.
Permanent endodontics for your child and interceptive orthodontics.
Clinic Name

Kings Medical Center

Address

Office No. 4002, Rigga Business Center, Ibis Hotel Al-Rigga Road, PO Box 55951, Deira ,Dubai ,United Arab Emirates Location Map

Working Hours

Everyday 9:00 am - 9:00 pm

Phone

042 552 020

Website

kingsmedicalcenter.ae
The KMC is located at Rigga Business Center along Al-Rigga Road in Dubai. This clinic's approach to the dentistry combines compassion and integrity with dedication and professional expertise of the clinic in dubai. They feature advanced tools like 3D imaging technology and on-site laboratories for any pediatric dentist serving here who goes through important screening and scrutiny to earn their place.
About The Pediatric Dentist
The specialist pediatric dentist at KMC is Dr. Aakash Sharma, who comes with a BDS and a Masters in Pediatric & Preventive the Dentistry from India. Prior to his appointment as a pediatric dentist in UAE, Dr. Sharma fulfilled a residency in South Korea. Booking an appointment with him is easy through their website, and his ability to bond and cooperate with the child remains top quality dental clinic in dubai.
With the aim of restoring a healthy smile in your child, Kings Center provides a positive and friendly environment for children of any age. Some of the areas they excel in include:
Dental sealants to prevent cavities and preserve the chewing surfaces of molars
Topical fluoride to prevent decay and promote oral hygiene
Root canal treatment for preventing premature malocclusion
Space maintainers for children who have lost baby teeth early
Appropriate dental appliances for breaking poor habits like thumb sucking
Special procedures are conducted under general anesthesia.
Full suite of oral care and attention even from the first dental visit.
6.Dr. Paul's Dental Clinic
Clinic Name

Dr. Paul's Dental Clinic

Address

Oud Metha Al Nasr Plaza - Office 101, 1st Floor, Offices Postal Box 50012 - Dubai - United Arab Emirates Location Map Mirdif Al Barajeel Oasis Complex - 4001 47th St - Mirdif - Dubai - United Arab Emirates Location Map

Working Hours

Oud Metha Everyday 9:00 am - 9:00 pm Mirdif Sat - Thurs : 11:00 am - 8:00pm Fri: Closed

Phone

Oud Metha 043 575 783 Mirdif 050 353 3745

Website

drpaulsdentalclinic.com
Dr. Paul's Clinic features seven unique dental units that are each equipped with state-of-the-art technology, a dentist for children of any age, and staff that is trained to deal with children at every appointment. The clinic was established by Dr. Binoy Paul and Dr. Bobby Paul, whose expertise range from special endodontics to pediatric dentistry.
About The Pediatric Dentist
Dr. Bobby Paul serves as the specialist pediatric dentist at this clinic, with over 25 years of experience dealing with adult patients and young patients of any age. Although his areas of specialty include pedodontics and preventive dentistry, he's equipped to handle any important issues present in your child's teeth. Dr. Bobby completed his MDS from Trivandrum, India, and has served as a dental expert in multiple countries.
Dr. Paul's clinic focuses on several areas of children's dental care, including common issues like tooth decay and care of primary teeth, general check-ups, and fixing bad oral habits.
Initial care for baby teeth when the child is six months or at the start when the tooth erupts
Special environment and personalized treatment for your child's first dental visit or when the first tooth appears.
Expertise in dental sealants to prevent cavities and tooth decay.
Careful canal treatments under age-specific care.
X-rays and other cutting-edge technology to aid a dentist in their efforts
Instructions on proper oral hygiene for both parents and children.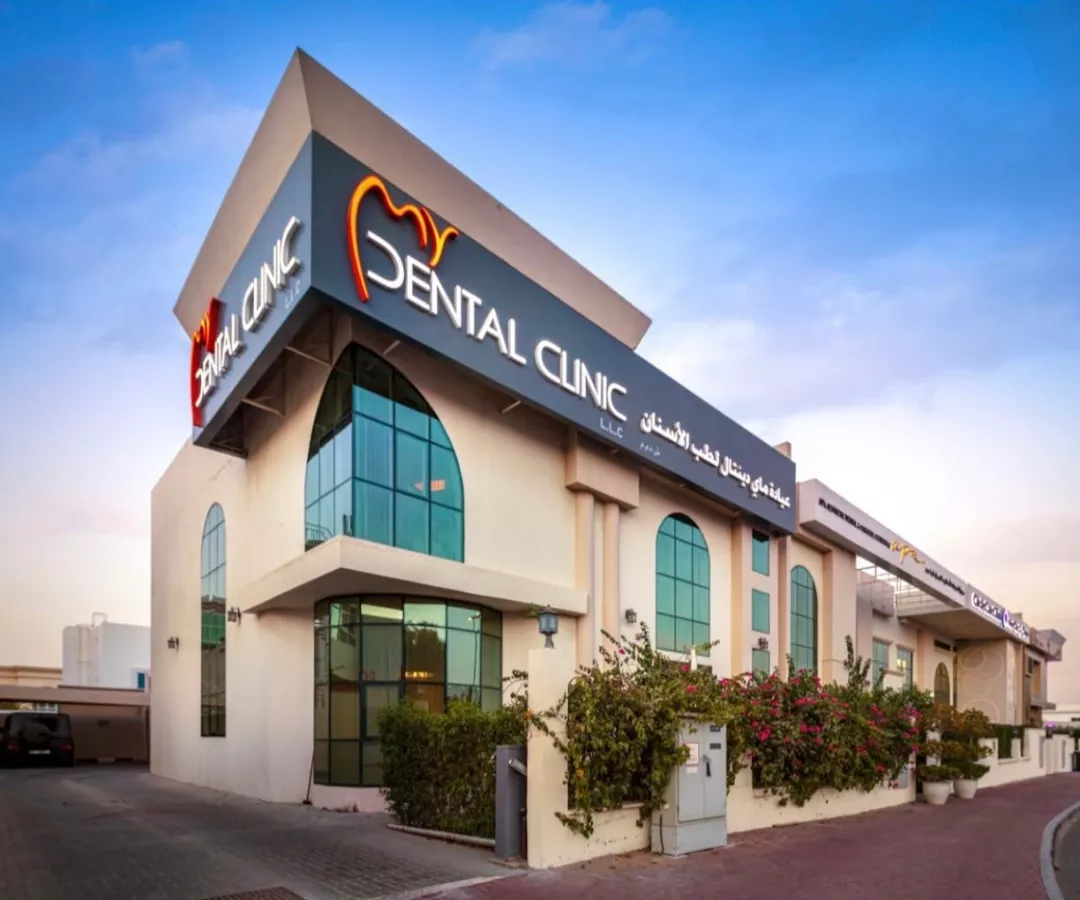 Clinic Name

My Dental Clinic

Address

61 Al Thanya St - Umm Suqeim - Umm Suqeim 2 - Dubai - United Arab Emirates Location Map

Working Hours

Mon - Thur : 8AM - 7PM Fri & Sun : 9AM - 8PM sat :Closd

Phone

043 388 939

Website

mydentalclinic.ae
MDC is a dental clinic in Dubai that began with the aim of being a wholesome destination when your child begins their visits to the dentist. Their priorities focus on creating a safe environment and a playful approach to the dental needs of your child. Located at Al Thanya Street in Umm Suqeim, MDC remains an important, accessible, and great choice for parents trying to convince their children into going to the dentist in the area.
About The Pediatric Dentist
My Dental Clinic's specialist pediatric dentist is Dr. Chantal Kengo, who possesses a DDS and MA from universities in Belgium and France. She has also worked as a dentist in France, Congo, Canada, and now, in the UAE, gathering over three decades of experience in the field. She ensures that children get enough play in her clinic with comfortable sitting and fun toys.
Dr. Kengo's clinical expertise in treating young children spreads across different branches and elements of important dental care. Some of the core areas include:
Timely dental check-ups and routine cleaning of your child's teeth (including baby teeth).
Fillings and crowns for restorative dentistry
Fluoride therapy and dental sealants to address tooth decay and the well-being of overall teeth and gums.
Appropriate dental procedures under general anesthesia or conscious sedation.
Great rapport with young children and a healthy relationship with parents.
Expertise in dealing with difficult children or young adults with non-cooperative behavior.
8.Dr. Dina's Pediatric Dentist Clinic
Clinic Name

Dr. Dina's Pediatric Dentist Clinic

Address

248a Al Wasl Rd - Jumeirah - Jumeirah 1 - Dubai - United Arab Emirates Location Map

Working Hours

Mon - Sat : 8AM - 8PM Sun : Closed

Phone

043 440 055

Website

drdinadental.ae
Dr. Dina's Dentist Clinic remains one of the most recommended centers for taking your child's treatment to the dentist. The clinic follows all the standards put forward by the American Academy of Pediatric Dentistry. And their focus on oral therapeutical treatments makes them a great choice for treating your child's teeth with the right expertise.
About The Pediatric Dentist
Dr. Dina Debaydo's career as a dentist and specialist pediatric dentist in Dubai stretches for over 30 years since her start back in 1991. Besides her private practice, Dr. Dina has also held important clinical roles with great contributions to the Ministry of Health in the UAE's government. Her team of pediatric dentists gets trained to provide the most comfortable and positive experience for your child's teeth during every visit to the dentist.
Veneers and other teeth whitening procedures for your child's teeth
Sealants and fillings that fight cavities prevent tooth decay and promote good health in gums.
Educating children on good oral habits from the very start.
X-rays, implants, and prosthetics for children with unique dental conditions
Expertise in attending to children with Autism and other special needs.
Comfortable treatment procedures under conscious sedation
True Smile Works is a premier dental clinic with locations in Abu Dhabi and Dubai. The Dubai office and clinic are located on the ground floor of Marsa Plaza in Dubai Festival City. This clinical chain is spread across five continents, with over 50 outlets in different countries. The center in Dubai is important for its expertise with children, the easy appointment process, and leading dental tech and equipment in its labs.
About The Pediatric Dentist
Dr. Garima Khandewal serves as the specialist pediatric dentist at True Smile Works, Dubai. She has degrees from Ireland and Glasgow, with good experience in handling a variety of children and young adults. The Ministry of Health, UAE, recognized her as the Most Innovative Dentist for the year 2020. Her specialties include:
Dental treatment of children with unique behavioral needs.
Sealants and fluoride gels restore tooth decay and prevent cavities.
Routine dental check-ups for OPD children
Pulpotomy or pulpectomy procedures depend on the need and situation.
Teaching healthy oral hygiene and care of gums to children at an early age.
Clinic Name

Drs. Nicolas & ASP

Address

Jumeira 8 Al Khwaher St - Jumeirah - Jumeirah 3 - Dubai - United Arab Emirates Location Map Marina Walk Phase 1, Mina Al Siyahi, Next to the Small Fountain, Above Marina Pharmacy & Starbucks - Dubai - United Arab Emirates Location Map Springs Souk Floor 1, Springs Souk - Al Afnan St - Dubai - United Arab Emirates Location Map Uptown Mirdif Uptown - Algeria St - Mirdif - Dubai - United Arab Emirates Location Map

Working Hours

Jumeira & Marina Walk
Everyday : 8:00AM – 8:00PM
Springs Souk
Sat – Thur : 8.00AM –8.00PM
Fri :10:00AM – 10:00PM
Uptown Mirdif
Sat – Thur : 8.00AM –8.00PM
Fri :Closed

Phone

Jumeira
043 947 777
Marina Walk
043 609 977
Springs Souk
045 572 949
Uptown Mirdif
042 559 977

Website

nicolasandasp.com
Drs. Nicolas & ASP is a premium chain of dental clinics spread across four locations in Dubai alone. You'll find their clinics located at Jumeirah, Mirdif, Springs, and Dubai Marina. This accessibility makes it easy to book appointments, and you can head to any of the centers even if you get a late start to the day. The clinic emphasizes fun play and a friendly environment set to make children love their visits to the dentist.
About The Pediatric Dentist
The clinic employs six specialist pediatric dentists spread across their four centers across Dubai. The team is headed by Dr. Elias D. Berdouses, who has a DDC and MSC from the University of New Jersey, USA. Other notable pediatric dentists in the team include Dr. Lana Shokini, who serves in the Uptown Mirdif office, and Dr. Bahia Natour, who is stationed at Jumeirah.
The experienced team collaborates to create personalized plans for every child that walks through the clinic's doors. And they can replace even the most embedded behaviors like thumb sucking or poor oral care with positive reinforcement and an approach that's customized for your child.
Dr. Nicolas & ASP is renowned for providing exceptional treatment regardless of whether it's your child's primary teeth on his first dental visit or a late teenager requiring teeth correction.
Sealants that protect the chewing surfaces of primary teeth
Repair of cavities with fillings and oral practices that prevent decay in the future
X-rays and relevant examinations can detect and diagnose more accurately
Cosmetic dentistry fixes problems without compromising the child's oral health.
Special strategies to treat children who come with conditions like Autism.
Quick Guide To Pediatric Dentists
Finding the right pediatric dentists for your child implies that you understand what to seek and what to expect. Here's a quick breakdown for parents who may have common questions and doubts regarding dentists and pediatric specialists.
What Do Pediatric Dentists Do?
A common question that many young parents wrestle with is, What are pediatric dentists? What do they do? Essentially, dentists with pediatric specialties are conventional dentists who have special expertise dealing with children's oral care in addition to their general dental qualification. They can treat, diagnose, recommend, and perform procedures that fix or improve dental conditions often found in children.
Another pressing question for many people is, Can pediatric dentists treat adults? Till what age? Here too, it's important to know that they can treat adults. However, people over 18 years of age may find it more comfortable at a family dentist because the pediatric dentist's office may be created especially for children.
Choosing A Pediatric Dentist
After understanding what these doctors do, the next logical question for many people is, 'How to choose a pediatric dentist?' The best pediatric dentists should combine clinical expertise and professional experience with child-friendly behavior and a fun clinical environment. Check out any of the pediatric dentists mentioned here to ensure your child gets the best dental attention regardless of their age, bearing, mental development, or physical needs.
When Should I Seek A Pediatric Dentist?
A burning question for many new parents is, 'When to visit a pediatric dentist? How to choose the best?' You should take your child to a specialist pediatric dentist as early as six months or when you can spot the earliest signs of tooth development. Most dental clinics will provide dental treatment for small children as young as one. So, do not hesitate to contact a dentist with pediatric expertise, even if your child does not have any immediate issues. Sometimes, a simple examination may detect issues early. Other times, more intensive scans like X-rays may be needed to identify problems.
When it comes to choosing the best ones, look no further than this curated list of clinics and pediatric specialists who can cater to children of any age.
The most reliable pediatric dentists often get drowned out in the sea of advertisements and marketing strategies used by mediocre competitors. Today, this guide and breakdown is an attempt to direct you toward the best healthcare providers for children's dental needs within Dubai. Ensure the longevity of your child's teeth and the preservation of their healthy smile when you engage the top professionals of the field in your region.