A Web design and development continue to serve as a proven way to improve a company's branding, audience reach, and better access to services to clients/customers. This increasing need for best website design and digital marketing services has led to the emergence of countless website design and development services in Dubai and beyond.
With so many of the website design services swamping the industry, it becomes impossible to differentiate the good ones from the mediocre ones. Worse yet, you end up with second-rate web developers who charge through the roof but provide hardly any value.
To ensure that you have quick access to the best web design company in Dubai, we scoured the top services and studied the services they provide. We tried out and tested all a website design & development services, features, and benefits they offer. Furthermore, our team tested each company's proficiency with supplementary services like UI design, mobile applications, and even the feedback given by clients and customers.
Compiling all the top web design and development services, we created a list that contains the cream of the crop. So, if you're looking for the best web design companies in Dubai, you'll find it right here.
Top 10 Acupuncturists In Dubai
What Gynaecologists Do? What They Treat?
1.Legend1st: Hands down The Best Web Design Company In Dubai
Legend1st remains one of the best web design companies in Dubai for its excellence in a wide range of a website development and comprehensive digital marketing capabilities. In addition to web design, they stand out in SEO services, design branding, digital marketing, and even 3D video production.
This full suite of a website design and online marketing services makes them the best web design companies in Dubai, according to our tests and findings. Clients can order anything from customized applications and security measures to aesthetic logos and effective SEO strategies.
Company Name

Legend1st

Address

Office No. 402, Crystal Tower - Business Bay - Dubai Location Map

Working Hours

Saturday – Thursday : 8:00 AM - 10:00 PM
Friday : 1:00 PM - 8:00 PM

Phone

055 701 5031

Website

legend1st.com
The company began in 2010 as a one-man gig dabbling in graphic design and basic website design development. In only a few years, it grew into a full-fledged team of professionals with offices expanding to Egypt and beyond.
Today, Legend1st has established bases across continents with offices in the UK and even Hong Kong. It extends services to the biggest MNCs worldwide yet offers customized services to even the smallest businesses in Dubai, united arab emirates.
Legend1st employs teams of specialists who work on different elements of the business. Besides web design, they use cutting-edge tech to create 3D videos, enhance your online presence through digital marketing, or create engaging and informative content that captures your readers' and visitors' attention.
Their graphic design team delivers amazing visuals that pop out to grab your attention on a websites and banners. The mobile app development and the website design services will create and manage top-quality platforms that improve clients' reach and branding. They also offer social media management and online marketing strategies for businesses looking to expand their customer base.
Additionally, Legend1st's SEO services have enhanced many businesses' online presence across Dubai and the UAE. Their optimization schemes and content writing services match the client's specific needs and context. All in all, they remain the best agency for website design and every related objective when it comes to web development companies in Dubai, united arab emirates.
2.Infoquest: Best Web Design Company In Dubai For Open Source Solutions
Company Name

Infoquest DMCC

Address

Office # 2901, One Lake Plaza - Cluster T - Jumeirah Lake Towers - Dubai Location Map

Working Hours

Saturday – Thrusday : 8:00 AM - 6.00 PM
Friday : Closed

Phone

050 856 6441

Website

infoquest.ae
Businesses today often require web technologies of programs that can be tweaked to fit their processes. Proprietary solutions often come with rigid features that may look good at first glance but prove inadequate in practice.
That's where open-source solutions make the difference. Infoquest remains one of the leading firms offering this expertise in the Dubai, United Arab Emirates.
Infoquest began as a company in 2008 with a certified team of professionals and developers. The company started garnering more and more satisfied customers thanks to its ability for customized solutions.
Although still a relatively small and growing company, Infoquest is establishing itself as a reliable provider of open-source solutions.
Infoquest delivers a variety of web development technologies to its clients. But the component that truly stands out is their open-source service. Their expertise in content management systems includes common platforms like WordPress, Drupal, and Joomla. The frameworks they deal with also include Zend Framework and CodeIgniter.
The team will customize and redefine open-source applications to blend in with the client's business process. Also, their cross-platform integrations ensure that clients get maximum utility from different platforms regardless of whether they're in ecommerce or serve as a digital agency.
Open-source products continue to make inroads in businesses and projects that require high customization. And companies like Infoquest are revolutionizing the use of these technologies as a web design in Dubai and beyond.
3.Pentagon (Penta Media): Best Web Design Company in Dubai With SEO Expertise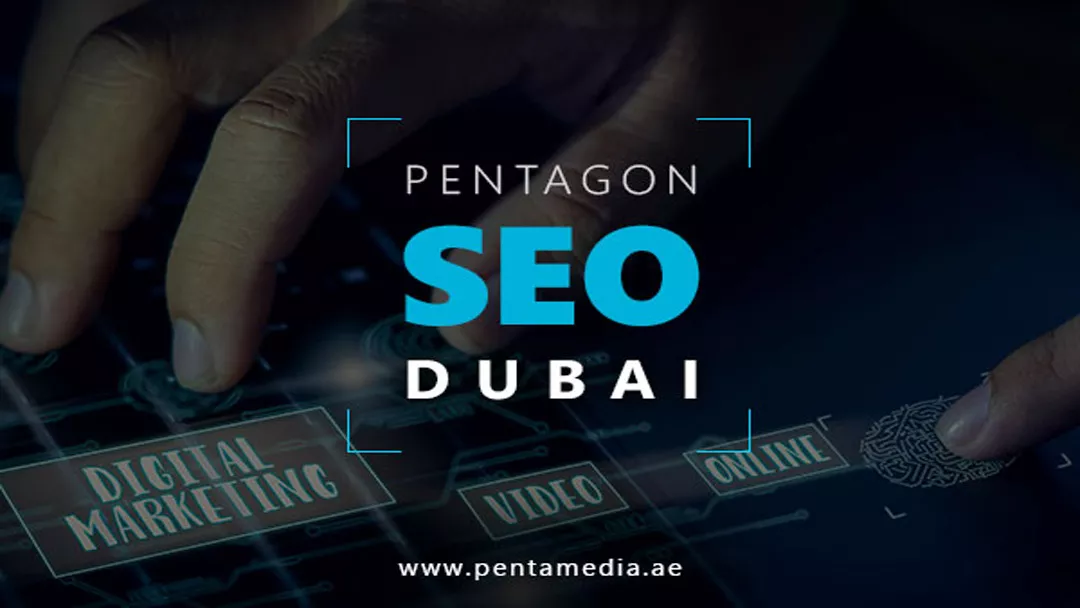 Company Name

Pentagon (Penta Media)

Address

Marina Plaza, Suite # 2902 - Sheikh Zayed Rd - Dubai Location Map

Working Hours

Friday – Thrusday : 8:30 AM - 6:00 PM
Saturday : 9:00 AM - 4:00 PM

Phone

042 785 122

Website

pentamedia.ae
Pentagon offers web hosting, email hosting, web design, and digital marketing services. However, their handling of SEO and other search engine-related tasks makes them worth checking out.
Pentagon (also called Penta Media) is an upcoming SEO service provider based in Dubai and Abu Dhabi. It serves as one of the leading SEO firms with years of experience (over 26 years) in the industry.
They also create eye-catching websites and offer digital marketing services. However, it's their search engine optimization that truly cuts ahead of the competition.
The SEO team at Penta Media follows a reliable process of optimizing your website or content for increased traffic, enhanced conversions, and more sales. They employ the latest SEO measures, keep track of search engine dynamics, and focus on organic traffic and enhanced online visibility for your business.
The Pentagon SEO team follows a specific process of optimizing your website. This strategy includes link-building, content marketing, and SEO audits to keep track of progress. Within the United Arab Emirates, they use a combination of local SEO and Arabic SEO to ensure that businesses find the right traction and audience.
4.Plan A Agency: Best Web Design Company in Dubai for Branding And Creative Design
Company Name

Plan A Agency

Address

Office 901, The Exchange Tower - Al Mustaqbal St - Dubai - United Arab Emirates Location Map

Working Hours

Sunday – Friday : 9:00 AM - 6:00 PM
Saturday : Closed

Phone

044 310 535

Website

plana.ae
With the growing trend of businesses in any industry, proper brand identity is vital. Plan A is a web design and development agency that continues to excel in this field of a web design companies in Dubai united arab emirates. Their social media marketing and advertising also stand out compared to competitors. But brand-building strategies are the area where they've shown maximum efficiency.
As the name suggests, Plan A is an agency in Dubai that seeks to be your primary go-to solution for all things web design. Their full suite of a web design services includes all the features you expect from a good web development company. And their specialization has grown in leaps and bounds when it comes to branding.
The team consists of qualified and professional members whose job is to turn your business towards staying creative, remaining relevant, friendly, and responsive to your target audience.
One of the main tools used by Plan A to enhance your business is brand audits. Here, they use reliable data, innovative designs, and strategies that appeal to the customers and target audience through a web design in Dubai, united arab emirates. The result is that your brand improves its recognition, identity and begins to command a loyal following that's difficult to achieve without expert intervention.
To enhance a website, they'll focus on correct brand naming and brand identity. This approach seeks to draw loyalty and support for your business. They can handle everything from designing logos and creating catchphrases to the product packaging and marketing campaigns. In some cases, they may suggest an overhaul of existing designs and go for a complete rebranding policy.
5.Digital Gravity: Best Web Design Company In Dubai for UI/UX Design
Company Name

Digital Gravity

Address

904, Dusseldorf Business Point - Al Barsha 1 - Dubai Location Map

Working Hours

Sunday – Friday : 9:00 AM - 6:00 PM
Saturday : Closed

Phone

042 421 375

Website

digitalgravity.ae
The best web design agency ensure that your platforms remain user-friendly and easy to use. Even the most experienced web designers and professional developers may fail to create high-quality for your websites that allow users to enjoy the platform. That's where companies like Digital Gravity shine in Dubai UAE.
Digital Gravity is a website design agency in Dubai that uses creative strategies and inventive thinking to create a user experience that takes a website to the next level.
They can lend this expertise on user experience to any web project ranging from e commerce sites, web design agency in Dubai to information sites.
They offer support and services for a variety of web projects. However, their web developers show exceptional capabilities when it comes to UI design. Their UX designers remain professional throughout and deliver designs that are creative, user-friendly, responsive, and a pleasure to use.
They can convert PSD to HTML, execute U audits, and add graphic design elements to a website. Also, landing pages designed by Digital Gravity seem to rake in more conversions, higher click-throughs, and increased sales.
They also conduct User experience workshops that help similar companies or upcoming web designers to hone and sharpen their UX/UI skills and capabilities. This team's dedication in providing a people-friendly user experience remains unmatched if you consider many other similar platforms in Dubai.
6.Mighty Warners: The Best Web Design Company in Dubai With Integrated Digital Marketing
Company Name

MIGHTY WARNERS TECHNOLOGY LLC

Address

Office Suite No : #2515 Burlington Tower - Marasi Dr - Dubai Location Map

Working Hours

Monday - Thrusday : 10:00 AM - 6:00 PM Friday : 9:00 AM - 5:00 PM Saturday & Sunday : Closed

Phone

058 172 6602

Website

mightywarner.ae
The success of a web project depends greatly on how well its contents are marketed online. Grabbing the right digital marketing strategy means a website will be able to rein in more clients and project responsive initiatives.
Companies like Might Warners are changing the way digital marketing takes place in Dubai UAE, and outside of the United Arab Emirates.
Mighty Warners is a web development companies in Dubai focused on three core areas. These services include ICT capabilities, integrated digital marketing, and result-driven content writing.
Their full suite of digital marketing services includes SEO research and implementation, social media management, effective use of Google ads, PPC, and strategized YouTube marketing. This integrated and creative approach to your website design development makes them one of the top digital marketing companies in the UAE.
It should also be mentioned here that Mighty Warners have a comprehensive ICT service. This component includes both hardware technologies and software projects for your website, your business, and all its process requirements.
7.Xtreme Gulf: Best Web Design Company In Dubai With Custom Web Applications

Company Name

Xtreme Gulf

Address

Rashidiya Towers - Abuhrirh St - Al Rashidiya 2 - Ajman Location Map

Working Hours

Sunday – Thursday : 8:00 AM - 6:00 PM
Friday & Saturday : Closed

Phone

056 502 8838

Website

xtremegulf.com
Securing customized web applications requires full-stack and comprehensive website development skills. Firms like Xtreme Gulf offer mobile app development and web solutions that come tailor-made for your business.
With extensive experience dealing with different elements of your website design and web development industry, Xtreme Gulf is worth checking out if you seek customized solutions.
Xtreme Gulf is a reputed web development company and agency in Dubai that delivers high-quality creations for its clients. While a web design company remains a common service for them, doling out customized web solutions is their main expertise.
They've worked with automotive brands like Mazda and engineering firms like Al Shafar. Given this wide range of experience, they count as one of the best web design services and a reliable digital marketing agency in Dubai.
Xtreme Gulf's services range from your website design and UI design to mobile app development and digital marketing. But their custom web app technologies take the cake when it comes to result-driven products and satisfied clients.
They don't simply design and create your custom solution. The service includes cost-effective implementation and maintenance. So, your custom solutions come designed for performance and professional web aesthetics and are in tune with modern web technologies.
Data migration, scaling up the website, software development, personalized e-commerce systems, and custom-coded projects are a few of the leading web services this design agency in Dubai offers.
8.Webolute: Best Web Design Company In Dubai For Full Web Development Services
The average web development companies in Dubai may offer excellent web design services to your business but struggle with digital marketing. Other times, some agencies may nail the user experience and digital marketing but fail to provide timely maintenance.
Webolute, as the name suggests, is an almost absolute shop for grabbing all these web development and design development services required by your website.
Webolute was created in 2016 by CEO and founder Aman Dhanda. The company's aim was to become a leading web design development and digital agency. However, their expertise grew more towards a web design company components compared to the marketing strategies.
Today, they qualify as a respected web development company in Dubai UAE and the middle-east. Amand Dhanda's team grew enough to rope in experts in SEO services and digital marketing, e-commerce development, software development, creative designers, and graphics artists.
Webolute's website design development capabilities are better than most other competitors in the same category. Their professional web designers, quality assessment, and eye-catching visuals all come as part of the website design agency initiative.
The services also include mobile app development, social media marketing, and managing your website for SEO. However, you may remain better off with comprehensive services like Legend1st if you're seeking to boost your online presence too.
However, if your business is looking for a functional and aesthetically pleasing website, Webolute's services in Dubai remain one of the best in the region.
9.Pentacodes: Best Web Design Company In Dubai With Web Security
Company Name

Pentacodes IT Solutions

Address

Dar Al Wuheida Building - P.O-87076 - Office No.214 - Hor Al Anz East - Dubai Location Map

Working Hours

Monday - Friday: 9:30 AM - 9:00 PM
Saturday & Sunday : Closed

Phone

050 702 8262

Website

pentacodes.com
Pentacodes boasts of customers and clients that range from cleaning services like EcoPlus and lifestyle brands like Mebashi. In every instance, they seem to have delivered decent web design and development along with respectable social media marketing and digital marketing tactics.
However, these services pale in comparison to the web security measures that companies in Dubai UAE are clamoring for today.
Pentacodes began as a company providing IT services in Dubai UAE, and Kochi, India. Since its inception in early 2015, Pentacodes has continued to grow in expertise, manpower, and breakthrough web designs that remain user-friendly, functional, and well-suited for the target audience.
A large-scale rebranding strategy in 2022 turned them into a top-quality agency that offered user-friendly designs all across the Middle-east. Their well-designed website is proof of how their web designers manage to create quality projects consistently.
Pentacodes' web design services touch everything from app development and digital marketing to social media marketing and e commerce development. Their true specialty, however, lies in their web security services. The Pentacodes team will customize, deploy, and maintain security components for your business as well as in the website.
Encountering censure, loss of data, compromised security, etc., are a few of the risks that your website faces in today's industry. Pentacodes offers malware protection, vulnerability management, cloud security, and web server security for businesses in Dubai UAE, and Kochi, India.
Basic security measures like SSL certificates, protection from phishing scams, and email security are also among their suite of services.
10.Brown Men Marketing: Best Web Design Company In Dubai With Influencer Marketing and PR
Company Name

Brown Men Marketing

Address

Shams business Center, Sharjah Media City Free Zone, Al Messaned,Sharjah

Working Hours

Saturday - Thursday : 8:00 AM - 6:00 PM
Friday : Closed

Phone

050 438 2955

Website

brownmenmarketing.ae
Brown Men Marketing is another digital agency in Dubai UAE, that delivers outstanding social media marketing services. In addition to web design, Brown Men Marketing has accumulated a lot of user experience as one of the best web marketing agencies in UAE.
About Brown Men Marketing
Brown Men Marketing is a company that goes beyond being a web design firm. The firm is known for creative marketing campaigns, outreach success, and capabilities as a digital partner of growing businesses.
They use data-driven strategies and customer-friendly services to garner support for your business. The company is also well-informed on current trends and popular practices that determine how the digital world is growing.
Brown Men Marketing remains one of the best marketing agencies in the UAE. And their expertise is most visible when they take over marketing strategies for influencers and personalities.
Their influencer marketing approach makes use of the best PR management tools, outdoor marketing, SEO services, outreach initiatives, and campaigns that shed light on the influencer's activities and products. This strategy has been so successful that BMM may implement it for your business or web platforms that seek more visibility.
Businesses and institutions in Dubai continue struggling to grab the divided attention of customers and clients. The only way out is to enhance their virtual presence and allow easy access to information and products on their shelves.
And few other resources work, as well as good web design if you're thinking of reaching out to customers. Today, platforms like Legend1st are changing the landscape of modern web design and digital marketing with quality delivery, user experience, technical expertise, and affordable rates.
Enhance your online presence and watch your sales grow by getting through to the best web design companies operating in Dubai.